This post may contain affiliate links. For more information, see my Disclaimer
YieldNodes has one of the best "risk-to-reward" ratios in crypto investing.
As I mentioned in my "YieldNodes Review," I feel comfortable placing a fair amount of my Bitcoin onto this platform. 
Why? 
Well, there are dozens of reasons I've chosen to use YieldNodes platform. 
Although YieldNodes isn't risk-free, I feel it has the best track record in the masternoding industry.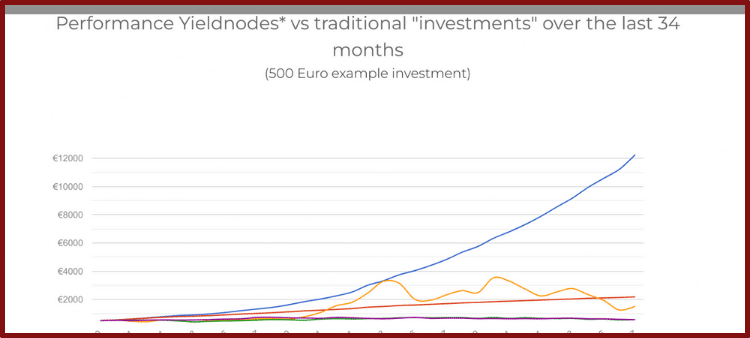 Plus, as I've contacted the YieldNodes team and explored the platform, I've become more confident this isn't a Ponzi scheme. 
I know; there are many other opportunities to make passive income in crypto.
However, I've yet to find an option that can deliver as consistent results as YieldNodes…especially in a crypto bear market! 
If you think YieldNodes may be a good opportunity, you will appreciate this post.
Below, I'll go over the most common questions new investors have about using YieldNodes.
By the end of this blog, you'll know whether YieldNodes is the right choice for your portfolio.
A YieldNodes Explainer — Answering The Top Questions About The YieldNodes Platform 
How Long Has YieldNodes Been Around? 
First off, you should know that YieldNodes isn't some "fly by night" crypto company that joined the 2021 bull market bandwagon. 
Interestingly, YieldNodes started operations back in 2018.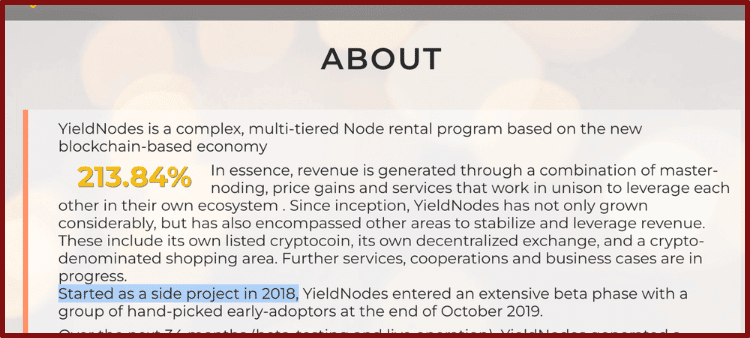 To be fair, the YieldNodes team began in beta before opening to the general public.
Still, even if you discount YieldNodes' beta beginnings, it has been around since 2020.
YieldNodes' years of operation give us a longer record to analyze its average returns.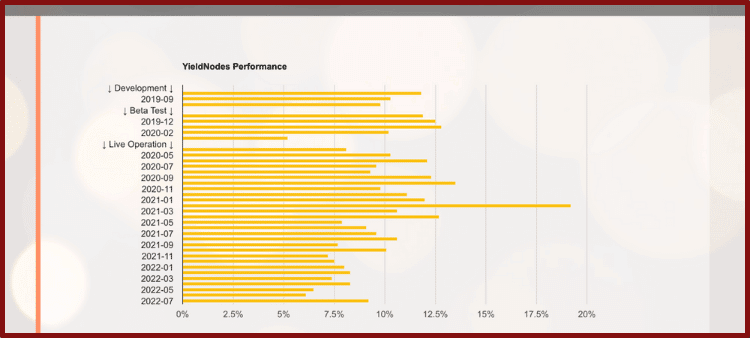 Since YieldNodes began in 2018, there hasn't been a single month where it dipped below 5 percent in monthly interest payments.
Also, since YieldNodes have been around for so long, it helps build confidence that this team isn't going to "rugpull" anytime soon.
Speaking of the team, I'd better address who's behind the YieldNodes protocol. 
Who's On YieldNodes' Development Team? 
Another feature I like about YieldNodes is that you can find clear information on the company's leadership. 
On YieldNodes' main page, you can find the LinkedIn pages for the four key team members.
Steve H. serves as the CEO & CMO, while Urs S. is the CIO and COO.
Yegor V. is the current CTO, and Dima T. is a management assistant. 
I know what you're thinking: Why don't these guys post their full names on the site? 
I'll admit, it seems a bit sketchy that they don't release their full names on the main website.
However, I've had no issues getting in touch with anyone on the YieldNodes team.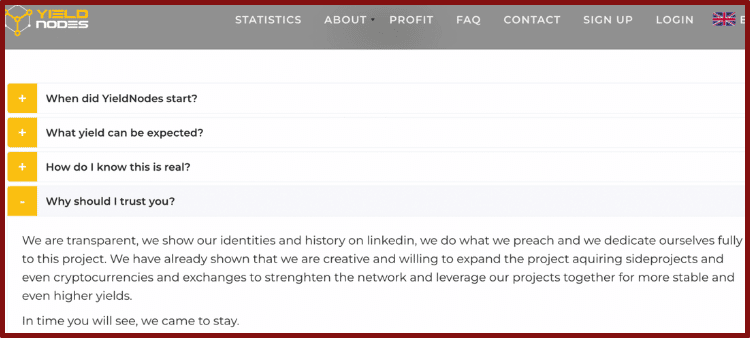 Plus, if you look into each team member's bios, you can see they have impressive credentials in IT. 
If you feel a bit leery about YieldNodes' leadership, I'd recommend looking over their LinkedIn pages or contacting them directly.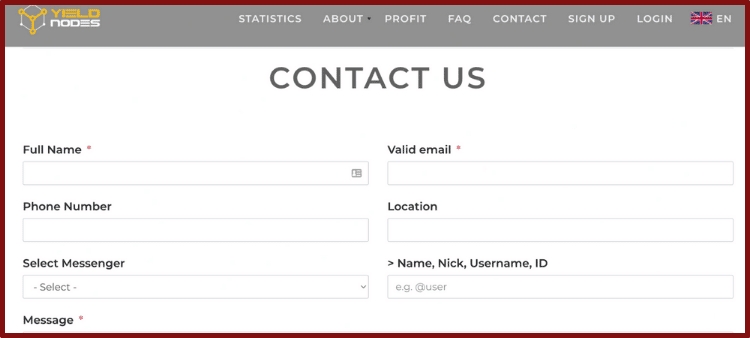 After speaking with Steve H, I felt way more comfortable in the management of this project. 
What Does It Mean To "Masternode" In Crypto?
Now that we know a bit of background on YieldNodes, let's talk about what they do:
OK, so what the heck is "masternoding?"
That's not a word that often comes up in conversations (unless you're in the crypto industry, of course!). 
Basically, "masternodes" are the most important "hubs" for data on blockchains.
Similar to servers for cloud computing, these "masternodes" hold critical data on transaction history and help power a blockchain network.
However, since blockchains are decentralized, developers have to incentivize people to run these masternodes.
Since masternodes require more computing power, they generate more token rewards.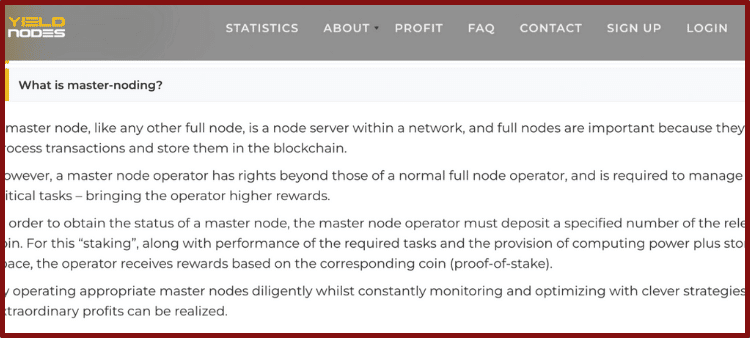 This is where YieldNodes comes into the picture.
YieldNodes will take whatever crypto you deposit on its platform and distribute it to masternodes for various altcoins.
YieldNodes passes on some of these rewards to you each month. 
So, What Tokens Is YieldNodes Masternoding? 
It'd be reassuring to hear that YieldNodes was staking your money on altcoins in the top 100.
However, the tokens in YieldNodes' portfolio aren't as well known as projects like Cardano, Solana, or Polkadot.
Even if you're an altcoin dabbler, you've probably never heard of the tokens YieldNodes supports.
However, that doesn't mean the tokens YieldNodes masternodes are "shitcoins." 
In fact, YieldNodes recently partnered with the country of São Tomé and Príncipe to test using tokens like Sapphire (SAPP) in their economy.
Even though São Tomé and Príncipe is small, that's a big deal for a project like YieldNodes.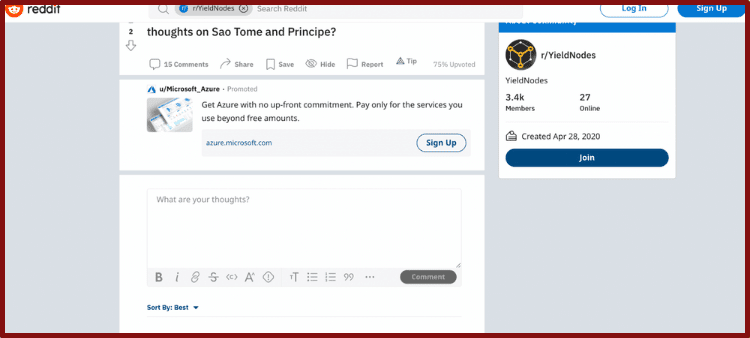 You can find a full list of the tokens YieldNodes masternodes for on its website, but here are a few highlights:
Sapphire

Trittium

777 Jackpot

Azzure

Dash Diamond

Cryptoflow
The tokens YieldNodes is working on have many use cases ranging from online gambling and travel to social media and agriculture.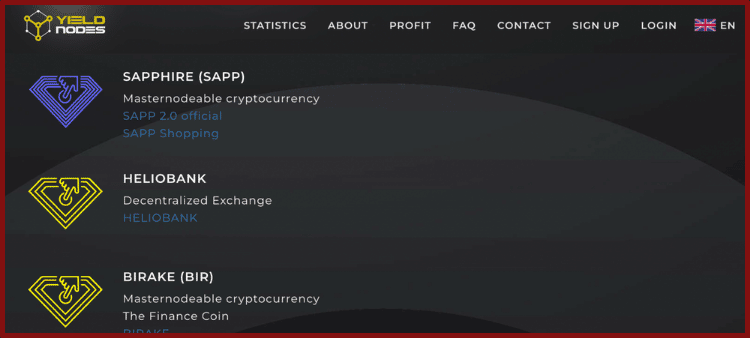 Do I think these tokens will go "to the moon?"
Not necessarily.
However, I like to see YieldNodes oversee a wide array of cryptocurrencies. 
If they could just have a few tokens that take off, that would be phenomenal news for the platform.
However, I get that some may not feel confident in the prospects for these ultra-small tokens. 
Please look into the cryptos YieldNodes supports on its official site and on websites like CoinGecko and CoinMarketCap.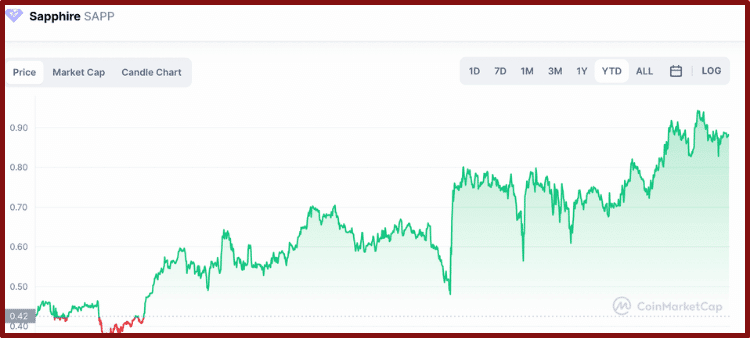 What Are The Logistics Investors Should Know About YieldNodes? 
Because YieldNodes needs to lock crypto in masternodes, you shouldn't expect to withdraw your funds quickly.
Indeed, everyone thinking about depositing on YieldNodes must prepare to keep their crypto on the platform for six months.
Technically, you could withdraw your money before this six-month lockup period, but you will get charged a 25 percent "emergency withdrawal" fee. 
On the positive side, you don't have to risk too much money to try YieldNodes.
You could invest as little as 500 Euros onto YieldNodes. 
Remember that you must abide by the six-month lockup standard each time you put your money onto YieldNodes.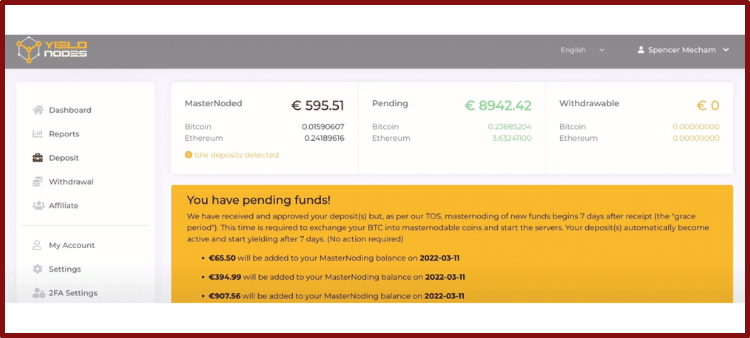 The only time YieldNodes would release your funds sooner is if it posts below 5 percent monthly returns for three consecutive months. 
So, if everything goes well, you should expect to see above 5 percent interest payments per month in your YieldNodes account.  
If you need more info on the logistics of YieldNodes, I'd recommend checking out my recent YouTube video:
Are There Any Risks To Investing In YieldNodes?
I can't say this enough in my YieldNodes reviews: YieldNodes is not risk-free.
It isn't even "low-risk."
Just because I feel OK putting my money into YieldNodes doesn't mean I'm 100 percent certain everything will work out.
That's the way investing goes—especially in crypto.
No risk, no reward. 
However, I'm willing to take on this additional risk because I feel it merits the steady monthly returns. 
Just bear in mind that YieldNodes is a high-risk investment strategy.
Even though the team is doxxed and has many community audits, there's a chance that they could run away with your Bitcoin.
There's always a risk YieldNodes could crater with a colossal crypto market selloff.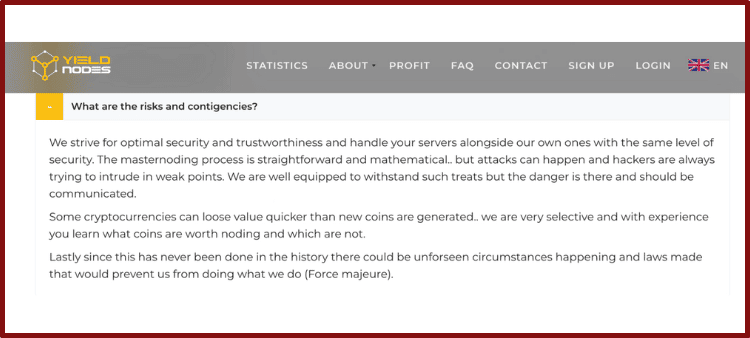 Plus, there are many questions on the prospects of the tokens YieldNodes is masternoding for. 
Do these altcoins have a viable future in Web3?
Nobody knows.
As far as I see things now, I feel comfortable locking my funds for at least six months on YieldNodes.
However, I'm also watching the news surrounding YieldNodes. If I see anything changing my opinion on the platform, I will re-consider my investment. 
How Do You Get Started Putting Your Crypto In YieldNodes? 
Let's say you've done your research, and now you're ready to deposit funds onto YieldNodes. 
Good news: It's effortless to open a YieldNodes account. 
Just click "Sign Up" on the top of YieldNodes' website and enter some basic KYC info.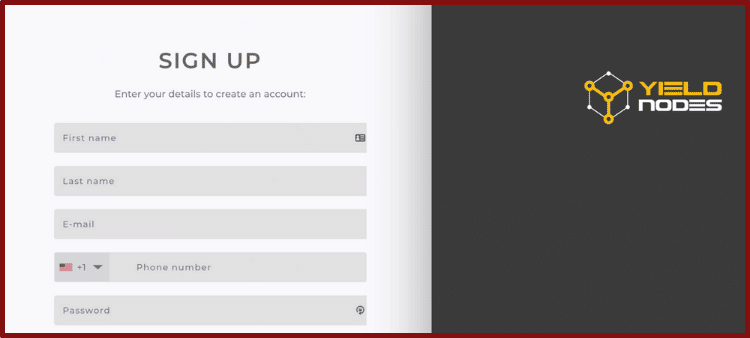 Next, you could send Bitcoin to your account by copying your YieldNodes Bitcoin address and pasting it on whatever crypto wallet or exchange you have Bitcoin on.
For instance, if you're holding Bitcoin on Trust Wallet, you could tap "Withdraw" by your Bitcoin account, enter at least 500 Euros worth, and paste your YieldNodes address.
Just be patient when sending funds to YieldNodes for the first time.
It may take a few days for YieldNodes to verify it. 
If you have more questions about logging into YieldNodes for the first time, be sure to watch my full tutorial below. 
Jason has been in the digital industry for years. He has vast experience in email marketing, advertising and using digital marketing tools. As a digital consultant, his focus is helping you get competitive advantage using internet marketing tools available today.